Pet Partner Volunteer Program
Bring Joy to Beaumont Hospital Patients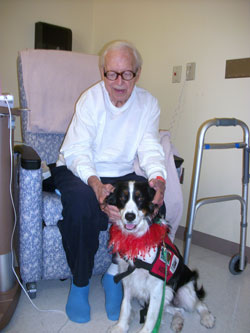 Studies have shown that physical contact with a pet can lower high blood pressure and improve survival rates for heart attack victims. The presence of an animal during painful procedures reduced the distress level of both children and adults. At Baptist Hospitals of Southeast Texas, our Pet Partners volunteer program has become a success in caring for the lives of our patients.
Pet Partners are human-animal teams who visit people in schools, hospitals, nursing homes, adult day care centers, and rehab centers. Pet Partner teams are highly trained and have passed stringent evaluations.
Benefits of Animal Contact
Many skills can be learned or improved with the assistance of a therapy animal. These benefits can be enjoyed by pet owners and by non-pet owners from visiting animals.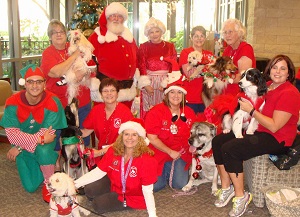 Patient rehabilitation can be encouraged by such activities as:
Walking or running with a dog
Throwing objects for the animal to retrieve
Petting, grooming, or feeding the animal to develop fine motor skills
Verbal or physical commands to assist patient communication
Writing or talking about therapy animals or past pets to develop thinking skills
Our Program Partners
The Baptist Beaumont volunteer program, in partnership with Southeast Texas Paws 4 Love – Therapy Animals, holds periodic workshops and evaluation courses for both Pet Partners International and Intermountain Therapy Animals, both of which are accepted for visitation at Baptist Hospitals.
For questions regarding Baptist Hospital's Pet Partner volunteer program contact the Volunteer Services Department at 409.212.5808 or volunteerservices@bhset.net.
For detailed information on Pet Partner workshops and evaluations email Paws4Love.hphp@yahoo.com.
For more information on Pet Partners International and Intermountain Therapy Animals, visit their websites: