Volunteer Opportunities in Beaumont
Give Back by Serving at Baptist Hospitals of Southeast Texas
Since 1949, committed volunteers have been a proud part of our heritage at Baptist Hospitals of Southeast Texas. Our volunteers come from all corners of the community and represent a variety of professions, age groups, physical abilities, and ethnic and cultural backgrounds. Committed volunteers have been the key to our success since we opened.
Our Volunteers Network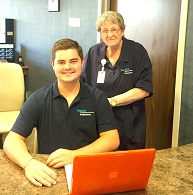 The Baptist Hospital Auxiliary is an organization made up of hospital volunteers who work together in promoting the health and wellness of the surrounding community. Over the years the Auxiliary has provided funds to the hospital for purchasing various medical equipment, special projects, and support of the Chaplain's Emergency Fund.
The Volunteer Auxiliary also encourages students to pursue healthcare career educations by offering educational scholarships. These generous gifts have been made possible through the Auxiliary's operation of the hospital gift shop, Blessings.
Year Round Volunteer Program
There are several different ways to be involved and volunteer. Our year-round volunteer program is for adults 21 years and older who are interested in committing a minimum of six months of volunteer time.
Baptist Beaumont Volunteer Program requires:
Age 21 years or older
At least a 6 month commitment
Online Application
Background Check
Brief Interview with Volunteer Coordinator
Orientation on Hospital Safety
Appropriate Immunizations
Mandatory Flu Shot (during flu season)
Service Specific Job Training
Purchase Uniform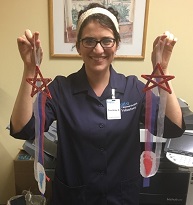 The college and high school student volunteer programs offer short-term volunteer opportunities for students that coordinate with changing school schedules.
Check out our one minute video and see what fun you can have volunteering too! We have volunteer positions for individuals interested in walking five miles during their four hour shift, as well as positions for individuals with limited mobility. We have volunteers ranging in age from 21 – 90+!
Ways You Can Volunteer
There is something to complement every skill, ability, and interest. Matching our volunteers to a position that will be most enjoyable and meaningful is important to us.
Opportunities include:
Patient information
ICU/surgery liaison
Emergency Department
Blessings gift shop
Popcorn concession
Pharmacy
Office assistants
Cancer Center
New mother education
In addition to our regular volunteer assignments, our volunteers frequently work together on special patient comfort projects and community activities.
How to Apply (This application is not for students)
If you are interested in volunteering in our year-round program at our Beaumont hospital, fill out our volunteer application by clicking here. Our Volunteer Services staff members are available to discuss volunteer opportunities or to assist you in any way.
If you are a high school or college student, please see our Student Volunteer Programs page for the application and on-boarding process.
Please see our Student Volunteer Observer Program page for more information about observation hours.
Baptist Hospital Volunteer Services
3080 College Street
Beaumont, Texas 77701
Phone: 409.212.5808
Fax: 409.212.5854
Email: volunteerservices@bhset.net