Emergency Services at Baptist Hospital in Beaumont
Providing Lifesaving Care When You Need it Most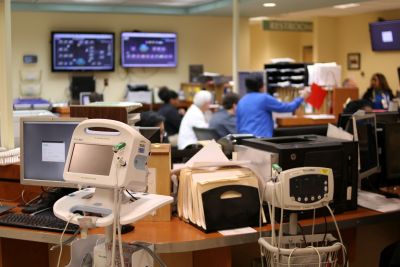 Whether it's a serious cut, broken bone, or something much more serious, you can rest assured knowing emergent care is close at hand with Baptist Hospitals of Southeast Texas. Our nationally recognized Emergency Department is available to provide high-quality emergent care services 24/7 by a specially trained team of emergency staff and board-certified emergency physicians.
Award-Winning Care Excellence
If you are facing a medical emergency in Beaumont, it is important to know that the care you'll receive is competent for the problem you face. Baptist Hospital in Beaumont has received a number of professional accolades for our outstanding care and our ability to meet national standards.
Awards and recognition include Primary Stroke Care Center Certification since 2007, given for our ability to meet stringent standards.
You should visit an emergency room if you experience life-threatening conditions such as:
Severe bleeding
Chest pain, especially if accompanied with arm or jaw pain
Acute breathing problems
Stroke symptoms including inability to speak coherently and facial paralysis
Vaginal bleeding while pregnant
Severe burns
Broken bones
Pediatric Emergencies
If your child is experiencing a life-threatening emergency, it is important to know that you have qualified help available right away. The Albert E. and Gena Reaud Children's Emergency Center at Baptist Hospitals of Southeast Texas is our premier pediatric emergency center.
Our hospital is located at 3080 College St in Beaumont.