Pediatric Care
Right-Sized Care at Baptist Hospital in Beaumont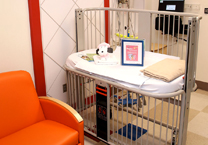 Children have special healthcare needs that are different from those of adults. Their bodies respond differently to injury and illness. Baptist Beaumont Children's Hospital was specifically designed with kids in mind. We are here to help them get healthy and stay healthy.
Modern Technology to Meet Children's Needs
The Baptist Beaumont Pediatric Unit blends leading-edge technology and compassionate care with a special dedication to meeting the needs of the children of Beaumont and surrounding communities — from tiny, premature infants to adolescents up to age 18. Every member of our staff has received specialized training in caring for the physical, social, developmental and emotional needs of children.
Our partners in pediatrics offer children reassurance, warmth and compassion, as well as ways to express their feelings and fears.
Baptist Beaumont Hospital provides pediatric urgent care through the Pediatric Emergency Department as well as other pediatric-focused services, such as our:
Pediatric Unit
Pediatric Specialty Clinic
Imaging
Cardiac diagnostics
Perioperative services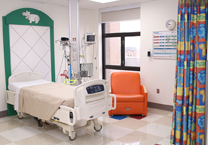 Pediatric patients may be cared for in the Pediatric Intensive Care Unit and stabilized prior to transfer to a more suitable facility for ongoing care. Pediatric services are under the medical direction of the Baptist Beaumont Hospital Medical Director in collaboration with pediatricians and other practitioners with clinical privileges in Pediatrics.
Scope of Care & Services
Baptist Beaumont Hospital is dedicated to providing the best possible care for children.
We offer the following services dedicated to our youngest patients:
17-bed Pediatrics Department serving children from birth to 18 years
Dedicated neonatal intensive care unit (NICU) with specially trained nurses and board-certified neonatologists
Age-specific care and support
Commitment to meeting the educational needs of hospitalized pediatric patients and their parents
Specialized pediatric nursing care with a focus on the entire family
Outstanding Care for Patients of All Ages
Baptist Beaumont Hospital believes in treating the whole patient, and children are no exception.
Various programs help us support the emotional and therapeutic needs of our youngest patients, including:
Hugworks: Dedicated services and resources for children with special needs to boost self-esteem and a healthy expression of feelings
Pet Partners: Human/animal teams who visit pediatric patients to promote relaxation, decrease stress, and assist with rehabilitation
Texas 10-Step Program: Providing nursing mothers with optimal care to improve breastfeeding outcomes
Emergencies
Life is unpredictable, and when your child has an emergency, Baptist Beaumont Hospital's team of pediatricians and specially trained pediatric emergency staff is there to provide the immediate care they need. Baptist Beaumont Hospital's Children's Emergency Center is a five-bed emergency unit that provides a caring, non-threatening environment for children from infancy through 18 years. Child-sized accommodations ensure your child's comfort while he or she receives care from our highly qualified emergency room nurses and board certified emergency medical physicians.
Patient art decorates Baptist Hospital pediatric unit
Dedication to children and parents stems from a philosophy that guides everything we do. Our Partners in Caring philosophy promotes an environment of opportunituy, encouragment, teamwork and trust. Our family-centered atmosphere makes everyone feel "at home". See The Full Article Here.