Beaumont Children's Emergency Care
Sacred Work at the Albert E. and Gena Reaud Children's Emergency Center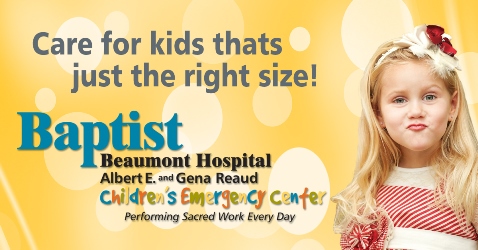 When a pediatric emergency happens, visit the Albert E. and Gena Reaud Children's Emergency Department located at Baptist Beaumont Hospital. We can treat a wide range of pediatric medical problems for patients ranging in age from infancy through age sixteen years old. Our environment offers a calm, safe atmosphere to help both children and their parents feel more comfortable and peaceful.
We provide high quality patient-centered care for pediatric patients with emergent, urgent, and non-urgent medical needs. Our new child-friendly pediatric emergency unit is open 24 hours a day, seven days a week.
Our team of medical professionals handles many different conditions including:
Infections such as colds, fever, croup, and respiratory concerns
Chronic concerns like seizures, asthma, or blood diseases
Injuries resulting in trauma
If further care is required, those patients can be admitted to Baptist Beaumont Hospital Children's Unit.
Our Staff
Our Pediatric Emergency Department is managed and staffed by highly qualified and specialty-trained pediatric registered nurses, Advanced Practice Nurses (APNs), and board-certified emergency physicians. Our healthcare professionals have extensive experience caring for children and young adult emergency needs ranging from minor injuries to critical care.
Our medical team works closely with our social workers who help reduce stress and anxiety by encouraging effective coping strategies for children and their families who are dealing with stressful situations.
Our Facility
Upon arrival, children are welcomed into the special waiting area equipped with child-size accommodations. They will follow a sea adventure down the specially designed hallway as they arrive at the five-bed pediatric unit, where monitors are linked to the central nursing station that allow our team to constantly observe the child's vital signs. To see more about the Albert E. and Gena Reaud Children's Emergency Department, click here to watch a video.