Diabetes Management Program
Helping Beaumont Patients Live with Chronic Disease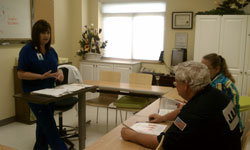 The Diabetes Management Program at Baptist Hospitals of Southeast Texas is a state-of-the-art program focused on behavioral change strategies for those living with diabetes. The program is recognized by the American Diabetes Association and focuses on patients with diabetes and dysmetabolic syndrome.
We take an individualized approach for each person depending upon their identified targeted needs. Follow-up is necessary and is performed after attending the outpatient classes. The outpatient program consists of a client assessment and nine full hours of class instruction.
The topics targeted include:
What is diabetes?
Pathophysiology of Type 1 diabetes, Type 2 diabetes and gestational diabetes
Acute complications of diabetes to include hypoglycemia
Exercise and diabetes
Nutritional components of diabetes and carbohydrate counting
Coping with diabetes
Oral Medications for diabetes
Insulin and insulin action in patient with diabetes
Chronic complications in diabetes
Heart disease and diabetes
Prevention of long-term complications of diabetes
Behavioral goal setting
Inpatient Diabetes Program
Inpatient counseling is provided by a Certified Diabetes Educator (CDE) for patients who have been newly diagnosed with diabetes or who have special circumstances for learning new skills related to diabetes. Inpatient education is given based on a physician order and patient's need as assessed by the Educator
Advocacy
Community outreach is also available by our diabetes program here at Baptist Hospital in Beaumont. Increasing awareness about diabetes and encouraging members of the community to better manage their health is important to Baptist Hospitals of Southeast Texas.
For more information or to sign up for classes, please contact Helen Simmons, BSN, RN-BC, Diabetes Education Coordinator at 409.212.7295.