SOMATOM Definition AS
Providing Accurate Imaging Using Advanced Technology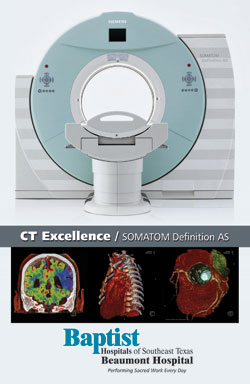 The Siemens SOMATOM Definition AS opens up access to care and promises a correct radiation dose for each individual patient. Computed tomography scans are increasingly valuable test for a wide range of medical conditions from trauma to cancer. To help diagnose and treat every patient more quickly and accurately, regardless of condition and circumstance, Baptist Beaumont Hospital is one of the first in the nation to install the SOMATOM Definition AS from Siemens Healthcare.
Scanning Capabilities that Fit Your Needs
The Siemens SOMATOM Definition AS provides a higher level of diagnostics and promises a correct radiation dose for each individual patient. Every day, clinicians face the challenge of scanning patients with a wide range of medical conditions and diseases, each with their own set of unique circumstances such as breathing problems or weight issues. These factors can complicate the imaging process and make it difficult for doctors to acquire the images necessary to provide a confident diagnosis. The Definition AS may prove particularly valuable in treating obese patients, an epidemic afflicting one in three Americans.
The system meets the challenges of testing larger patients by offering a wide 78cm bore, a broad imaging range and 660-pound table-weight capacity. Furthermore, the Definition AS is ideal for imaging patients who undergo bariatric surgery.
Cutting-Edge Imaging Capabilities
Using new technology called Adaptive 4D Spiral, the Definition AS adapts to each patient's clinical needs and covers the exact range the patient requires to then generate images in 4D. The Adaptive 4D Spiral addresses functional imaging – images of blood flow over time – of whole organs. In the case of a stroke patient, physicians can use whole–organ imaging to show not only circulation of blood within a small part of the brain like most CT scanners, but for the entire brain.