Cardiac Catheterization Labs
Promoting Heart Health at Baptist Hospital in Beaumont
In response to the need for additional cardiac care services to our community, Baptist Hospital in Beaumont offers three cardiac catheterization labs. Each lab is equipped with digital technology to aid physicians with the detection of abnormalities within the heart and arteries. Procedures are performed by a certified staff in partnership with specially trained and credentialed cardiologists, interventional radiology and vascular surgeons.
These labs provide a full range of diagnostic and interventional treatment options including:
Heart catheterizations
Coronary and peripheral arteriography
Coronary and peripheral angioplasty
Coronary and peripheral stent placement including drug eluting stents
Coronary and peripheral thrombolysis
Carotid artery stenting
Atherectomy
Permanent pacemaker implantation
Permanent internal cardiac defibrillator implantation
Temporary pacemaker insertions
For more information, please call 409.212.7270.
Providing Lifesaving Services for Patients with Aortic Stenosis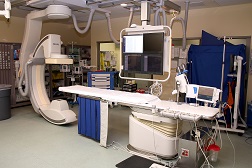 Aortic stenosis causes a narrowing of the aortic valve which makes it more difficult for the heart to pump blood. Transcatheter aortic valve replacement (TAVR) is a less invasive procedure used to treat patients with severe aortic stenosis who are at risk for traditional surgical aortic valve replacement.
The TAVR procedure enables the delivery of an artificial heart valve through a small incision using a catheter-based approach. The new valve functions like a normal heart valve, improving blood flow and reduces symptoms caused by aortic stenosis. Baptist Beaumont Hospital is the only hospital in Southeast Texas that performs this procedure.
Heart & Valve Center
The Heart & Valve Center at Baptist Beaumont Hospital is located at 740 Hospital Drive, in the professional tower across from the Baptist Beaumont Hospital campus. At the Heart & valve Center, patients are able to see any doctor on our certified TAVR team.
From initial consultations to diagnostic testing and follow-up appointments, this one-stop for cardiovascular care makes it easier for every patient to get the right treatment at the right time.